How hybrid events can boost your business
Expand the reach to more customers, delve into new realms and offer more oomph for your buck. The rise of hybrid events is one positive side-effect to coronavirus businesses can embrace in our "new normal''.
Blue Mountains Events & Conferences experienced that firsthand while organising the recent 2020 Australian Bushfire Building Conference.
The pandemic had resulted in mass cancellations throughout the country because of social distancing rules, restrictions to attendee numbers and travel bans.
COVID-19 had put the kybosh on everything from football matches and arena concerts to weddings, school formals and corporate retreats.
The $17.2 billion (BECA) meetings, incentives, conferences and events (MICE) industry was decimated.
It seemed that the event I'd planned and organised for Blue Mountains Economic Enterprise (BMEE) for the past 4 months would not be held.
While upset at the wrecking ball affect COVID was having on my fledgling business, I was distraught that the important messages and information of the bushfire conference would not be shared.
NSW Rural Fire Service Commissioner Rob Rogers and his predecessor Shane Fitzsimmons, now Resilience NSW Commissioner, were to share firsthand operational experiences.
Other experts were to give vital information on topics like retrofitting homes with bushfire protective materials, sustainability, bushfire behaviour and community resilience.
The conference just had to go ahead for the sake of our damaged, grieving community.
But how?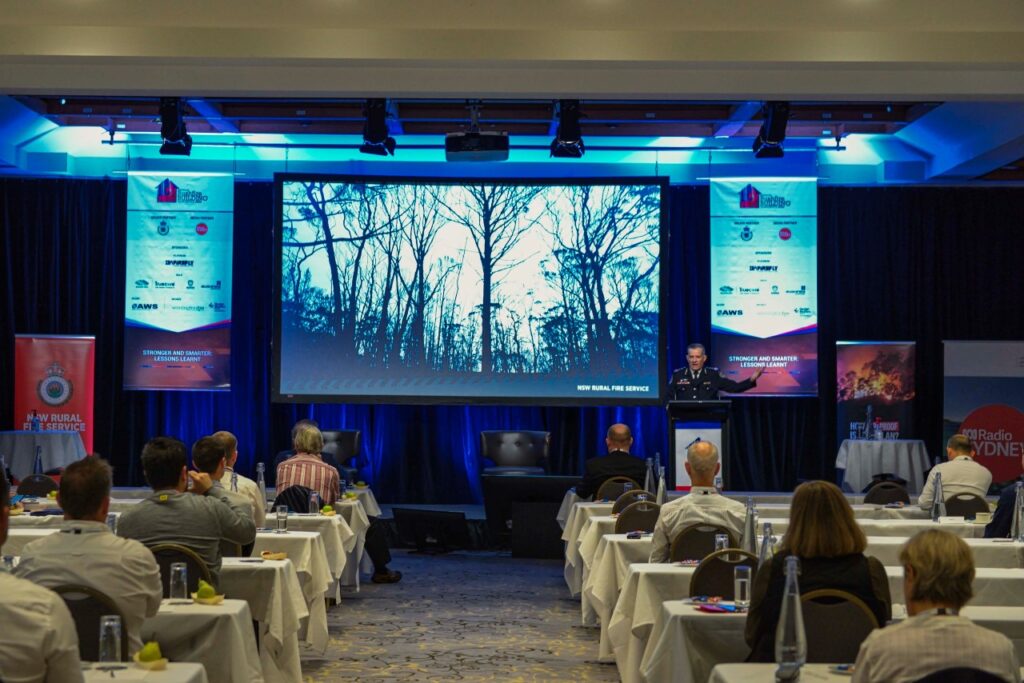 CATALYST FOR CHANGE
It soon became apparent that COVID and its restrictions could actually provide a catalyst to challenge creative thinking and expand options in ways previously unimaginable.
I realised that virtual reality held limitless potential, and the new virtual event program OnAIR provided the answer for me.
The software was created by sophisticated event management platform EventsAIR [link to their website] in response to the pandemic.
The EventsAIR team has a background in event management, so they think like event organisers like me and design their products to make life easier for event attendees, which is a benefit to me and my event host clients.
The OnAIR software provided a secure platform for everyone to login to, and from there everything was integrated – registration, a timeline and live IT support.
We were able to have live Q&A sessions, online networking sessions and virtual product and service presentations.
In short, expanding our event into the virtual world amplified the physical event beyond our expectations.
Within an hour of the 2020 Australian Bushfire Building Conference opening, I knew that hybrid events were the "new normal''.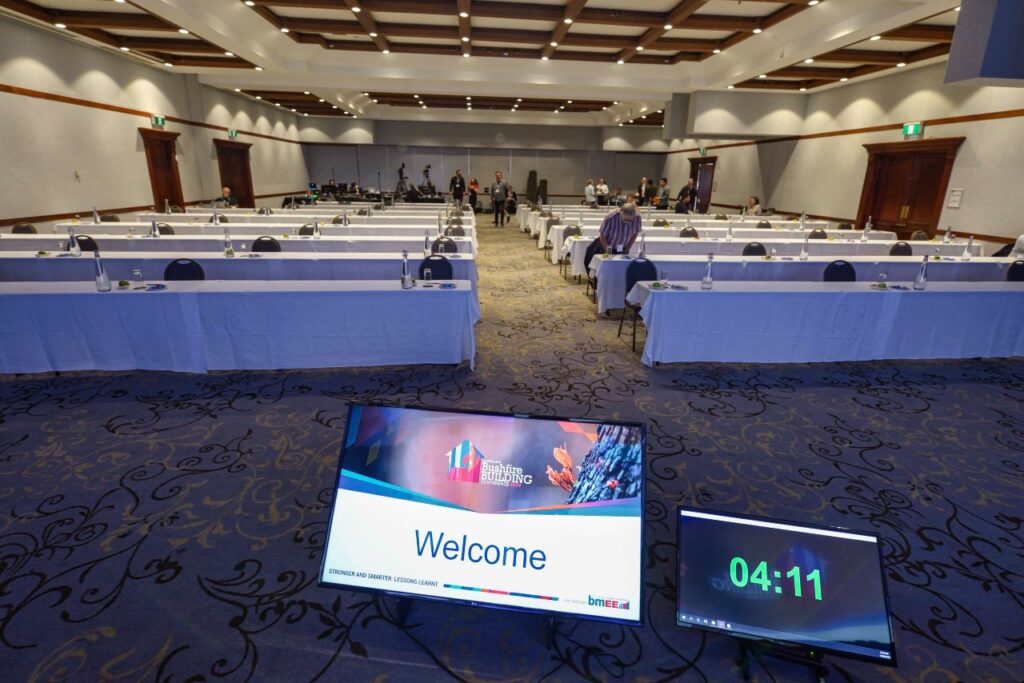 LIVE AND VIRTUAL
Last year, 250 people physically attended the conference. This year just 70 turned up.
But … 280 others joined via the OnAIR platform and ABC Radio livestreamed some sessions to more than 35,000 Facebook viewers.
For one reason or another (financial or time constraints, other commitments etc), many people joining us virtually would not normally have attended at all.
That response validated my initial gut instinct to push through and search for a way to bring the event to life.
While most people prefer to attend a conference in person for the learning, the vibe and to make business connections, hybrid events are here to stay.
I specialise in designing and organising bespoke experiences for small to medium sized speciality conferences at physical venues, but hybrid events can extend that reach to thousands, which adds untold value to my clients – and theirs.
Here's how hybrid events can provide limitless reach potential for your business:
The reach of livestreamed physical events is expanded exponentially online
Can be as lavish or as budget friendly as you wish and still have oomph using the right approach and technology
Online, opportunities are inexhaustible, with virtual chat rooms and exhibition halls, portals into different realms, apps, meeting hubs, downloadables, extended availability, AI tutorials, live Q&A, instant IT help desks and gamification the start of potential to extend reach
Parameters can be set on all facets of your event, from the number of attendees and who is allowed to speak when and for how long to advertising your next function, encouraging attendees to fill in surveys, running giveaways and competitions and fulfilling sponsorship commitments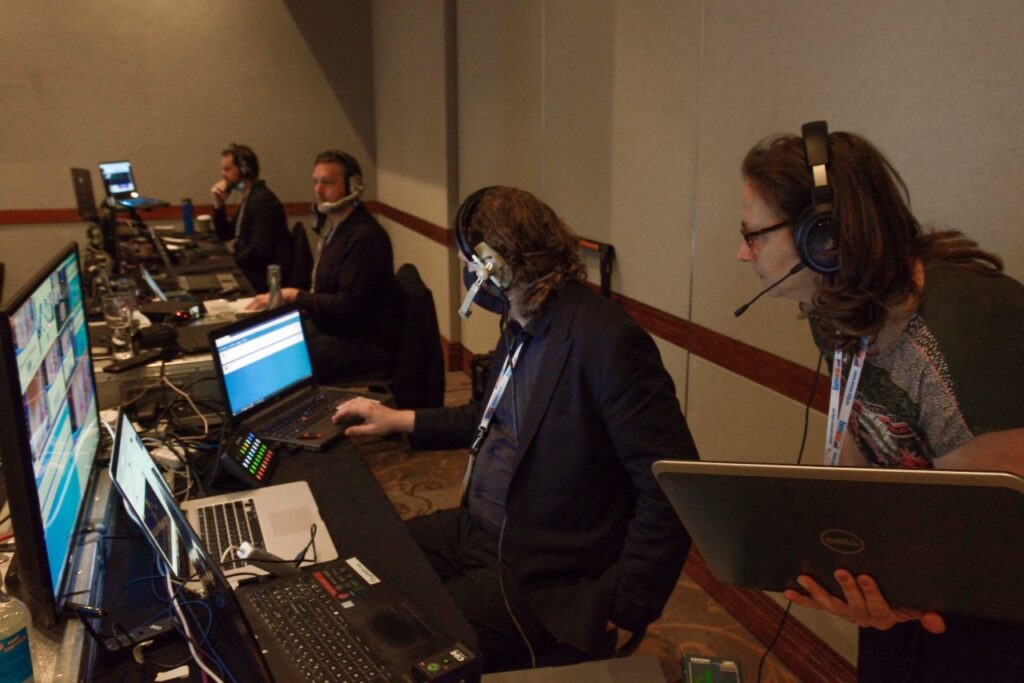 VIRTUAL REALITY THE NEW NORM
Virtual events will not take over live events. However, hybrid events will expand the opportunities of live ones and unite people without them being together physically.
I was petrified at the thought of holding my first virtual event because it was unchartered territory and I had to learn new things.
Now I'm excited to help others ensure their message gets through with hybrid events.
After more than 20 years as a professional conference organiser, I can continue to help small non-profit organisations and associations organise small to medium size conferences from concept to completion despite the challenges of 2020.
My previous experience with the BMEE, the Sydney Convention & Exhibition Centre and Mirvac Hotels & Resorts has enabled me to adapt to a changing environment fast.
It means I can continue as a Destination NSW regional conferencing supplier, committed to engaging local suppliers and encouraging businesses to "think outside the city''.
Contact me at www.bmconferences.com.au, 0418 147 831 or agnes@bmconferences.com.au to discuss your event or conference needs.